---
Ilyushin Il-4
---

Il-4
Il-4, 1/72 scale ( Václav Lomitzki ). Zvezda.
---
Il-4
Il-4, 1/72 scale ( Edward Russell ). This Il-4 was built from the Zvezda kit with much modification based on an excellent magazine article 'Well done, even though we are staggering on one wing in the darkness...' by Valery Serdyk in 'StandMaster'. Briefly, an insert was added to the rear fuselage, a triangular section was added to the wing outboard of the nacelle, the cowling of which was reshaped and the centre wing section reduced in span. Detail improvement s or replacements were made to panel lines, carburettor intakes, oil radiator intakes, landing light, rear gunner windows, wing tips, wheel wells, wheels, cowling louvres, vacuformed turret and UBT guns. Decals were modified from the Zvezda ones (they differ markedly between export and domestic market kits) and the 8 was hand painted. It represents an aircraft of 5 Guards Mine Torpedo Air Regiment, Black Sea Fleet Aviation. It was shot down by a Bf110 on 19 April 1944. The crew (A Kovtin, P Prokupchuk, V Ferentyev and A Zhoravlev) were all killed in action.
---
Il-4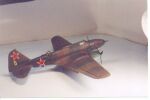 Il-4, 1/72 scale ( Bill Arnold ). Revell of Germany Il-4. The fuselage comes in four parts, and is not much fun to build. The entire plane has been rescribed. The colors are Model Master Russian topside green, and Dark Earth. Pastel shading has been added. Basically built out of the box.
---
Il-4
Il-4, 1/72 scale ( Ilya Grinberg ). Ilya heavily re-built the erstwhile "Zveda" Il-4 kit that was circulating in the US and UK of late with components from the Revell offering to create this superb model. He describes the major elements: "Fuselage and centerplane - Zvezda ; wings, landing gear - Revell ; canopies - Falcon ; engines - Engines and Things ; machine-gun in the nose - Aeroclub ; turret machine-gun - scratch-built; detailed canopy." The machine wonderfully depicted here was photographed in late 1942 in service with the 5 GMTAP, ChF.
---