---
Ilyushin Il-2 in 1/72nd Scale
---

Il-2
AM-38F, Double-seat
Il-2 ( Rick Reinbott ). "Eduard kit built mostly OOB with scratch built aerial wire (hair strands), seat harness (lead foil), brake lines (beading wire) 7.62 mm wing machine guns (brass tubing), landing gear indicators (brass wire) and drilled-out 23mm wing cannons, rear cockpit 12.7 mm machine gun and exhausts. Model Master paints with kit decals. The model represents "White 22", an "Il-2 Type 3" flown by Squadron Commander, Hero of the Soviet Union and future Cosmonaut Georgi Beregovoi."
---
Il-2
AM-38F, Double-seat
Il-2 ( Robert Varga ). "Model is TOKO built OOB only intakes were drilled out. Markings are from Eduard's Il-2. I think the Kremlin Type national markings are a bit pale, quite pinkish. Gun barrels and pitot are hypodermic needles, aerial is nylon fibre from my wife's old black tights. I use this material in every case I make wire, because unlike streched sprue it is flexible.
Paints used:underside: Testor's Russian Underside Blue, upper surfaces: green: Gunze H-58, ochre: mix of H-84 Mahogany and H-66 RLM 79. Cockpit, wheels and struts: H-314 for MUP. Tyre: H-77 Tyre Black. Spinner: Tamiya XF-4 Red. Propeller blades: Tamiya XF-1 Black.
I usually preshade my models by Tamiya XF-1 Flat Black and then I use Gunze paints.
After painting the pattern - there is a green blotch at the wing to fuselage joint that breaks the pattern - I faded the colours by spraying lighter ochre colours to the middle of the panels by ading more RLM79 to the mix. I used artist's black and burnt umber oil paint dilluted by Odourless Thinner to enhance panel lines. For paint chipping I used a 9B pencil. I like pencil chipping, because a more subtle finish is available than by using metallic modelling paints. Weathering on the wheels and underside is made by pigments fixed with either alcohol or Odourless Thinner.
Base is a simple and cheap picture frame. I inserted a piece of cardboard and train modelling grass was used. With a scalpel or hobby knife I scratched wheel tracks into it and then airbushed by several shades of green irregulary. Pigments were used to simulate ground effect."
---
Il-2
AM-38F, Double-seat
Il-2 ( Iskender Mailibayev ). "This Dakoplast model represents the aircraft used by 8th ShAp, KBF in 1943. Construction was pretty much straightforward, except for the wing-fuselage joint and upper air-intake fit, both of which required some putty and sanding. Model was built OOB, the only additions were syringe needles in place of gun barrels, gunsight bead, nylon antennae, ammunition belt for the rear gunner's UB, foil seat belts and a few additional panel lines. Camouflage scheme was based on the kit's painting guide and a single picture from "Il-2 In Action". A mix of Humbrol and Modelmaster enamels was used to paint the model and a gloss coat of Revell lacquer was applied. Kit's decals were used, though "Za chest' gvardii !" slogan is a bit oversized. Weathering was done by pastel chalks and aluminium drybrushing."
---
Il-2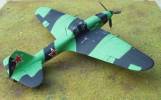 Il-2 ( Peter Vill ). "1/72 scale model manufactured / marketed by SMER, comes with etched brass and has the option of an aircraft fitted with skis or wheels. Detail is generally good, panel lines match the references I have, the kit is very easy to build and with a little time taken in checking and minor adjustments the fit is good. Finished in Tractor Green / Black scheme, I believe 150 or so aircraft were completed in this most unusual colouration due to shortages of the correct aircraft paints during the moving of the factories. To those who dislike the brightness of the green I would only say that just because a scheme is gawdy does not mean that as modellers we should fail to demonstrate it."
---
Il-2 AM-38F 'Arrow'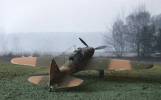 Il-2 AM-38F 'Arrow' ( Jan Koennig )."This is the Toko 'Il-2m3' kit in 1/72. The cockpit is a NeOmega resin set; the wheels are from Equipage; canopy is a vac-formed unit from Pavla. As well, the PART photo-etch set was used (external). The decals are from Eastern Express, and the paints used were from Vallejo Model Air." Jan looks forward next to building the Eduard kit.
---
Il-2 AM-38F, NS-37


Il-2( "Phil" ). 1/72nd Dakoplast, basically built from the box. Nothing much to say about it, except that the two forward air scoops (just behind the propeller) were glued a bit too low. On the rare photographs of Il2 with NS37, the fairings for 23mm guns are deleted. Concerning the markings, I fully relied on those given by Dakoplast, for I had no really usable document concerning this version.
---
Il-2 AM-38, Single Seat




Il-2( Václav Lomitzki ). 1/72nd Smer.
---
Il-2 AM-38F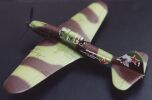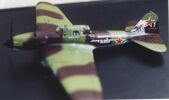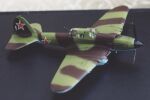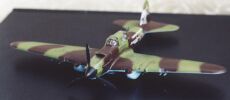 Il-2 AM-38F ( Erik Pilawskii). "Dakopast "Il-2M" 1:72 kit right o/o/b. The aircraft depicted is Ivan Pavlov's famous "White 1" of the 6 GOShAP, 1943, and was finished in a AII Brown over AII Green in a likely pattern of the period. All of the inscription decals were made using an ALPS MD-1000 printer. Pavlov's machine is shown in one photograph carrying RS-132 rockets, but I chose to attach two FAB 250 bombs, instead."
---
Il-2 AM-38, Single-seat
Il-2 Single-seater ( Erik Pilawskii ). "Mid-series Il-2 single-seater of the 174 ShAP, Leningrad sector, 1942.The pilot of 'White 23', Sr.Lt. Gruishkov, was lost to German fighters on 2 January 1943, whilst flying this very machine. Gruishkov was awarded the Gold Star HSU on 9 Sep/42 for destroying six of seven German tanks that were threatening a Red Army Command Post at Bol'shiy Sad, and driving off a Fw 189 reconnaissance aircraft in the process. 'White 23' wears the unusual early period Il-2 scheme from Zavod 18 of Black over Medium Bright Green, with an unusually hard-edged color demarcation. The wooden outer wings and fuselage are apparent, as is the semi-gloss finish. The kit was extensively corrected from the Mikro72 Il-2 kit, and features refined details, corrected surface construction details, revised wing plan-form, and other items."
---
Il-2 AM-38F, Double-seat
Il-2 AM-38F Double-seater ( Erik Pilawskii ). Once again this model was completed using the old Mikro72 kit, but with considerable work on the wing planform and fuselage. The canopy is a Falcon vac replacement, and all of the cockpit items are scratch-built. This aircraft represents an Il-2 ("White 74") of an unknown pilot of the 155 ORAP, 1944. The scheme is done in the common Shturmovik colors of Ochre over Olive, with supplimental areas of Black making a three-color camouflage.
---
Il-2 AM-38F 1943
Il-2 AM-38F, 1943 ( Erik Pilawskii ). This Il-2 ' so strielkoi ' (also known as 'twin-spar'), was built using the Toko "Il-2M3" kit. The rudder balance horn and RS-132 rockets are scratch-built, and the VYa-23 barrels are made from micro tubing. A lot of work was required to remove the panel lines from the outer wing sections to represent the correct wooden outer wing sections, and some of the kit's fit was marginal. This machine shows the interesting life of an Il-2 ("White 02") on the Eastern Front. It was damaged and subsequently repaired at the 281 ShAD's Forward Maintenance Brigade field at Krimits'ya, and then returned to duty with the 281 ShAD in October of 1944 (see Red Stars , pp.100). The aircraft appears to have had the entire rearward fuselage replaced with that from another Il-2, along with the rudder. The rear fuselage sports an Olive/Black scheme,while the forward aircraft is wearing a Zavod 18 three-color scheme of Ochre/Olive/Earth Grey. The vertical fin appears to have been sprayed Ochre.

---
Il-2 AM-38F 1943
Il-2 AM-38F 1943, ( István Vadász ). 1944 Autumn. 6th Assault Aviation Regiment flown by M. G. Beregovoj squadron commander (he became later an astronaut). Rebuilt out of Zts Mikro kit
---
Il-2 Single Seater
Il-2 Single Seater, ( István Vadász ). 1944 summer Estonia. Built out of Zts Mikro kit, with improved outside surface.
---
Il-2 AM-38F 1943
Il-2 AM-38F 1943, ( Clarence Wentzel ). Toko kit with modifications. See his review for more details.
---
Il-2 AM-38F 1943
Il-2 AM-38F 1943, ( Bill Arnold ). Out of the box Eduard kit using Model Master paint.
---
Il-2 AM-38F 1943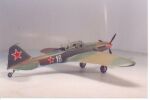 Il-2 AM-38F 1943, ( Bill Arnold ). Toko kit, out of the box, Model Master paints.
---
Il-2 Single Seater
Il-2 Single Seater, ( Bill Arnold ). Toko kit, out of the box, Model Master paints.
---
Il-2 AM-38F, Double-seat
Il-2 Double-seater ( Russell Fields ). Eduard kit.

---
Il-2 AM-38, Single-seat
Il-2 Single-seater ( Ilya Grinberg ). Ilya's very nice Dakoplast kit, built right OOB. The machine depicted is that of N.A. Zub, Southern Front, March 1942.
---