Erik Pilawskii
---

Starshiy.Lt. A.N Grishin of the 940 IAP, Trans-Baikal Front, 1945

---


UT-2M photographed at Monino aerodrome, Moscow, 1948


UT-2M photographed at Kacha Military Flight School, 1943


UT-2M photographed at Borisoglebsk Military Flight School, 1944


Details unknown; based on profile information from the Aviastand kit
Scene Paintings

---
unnamed work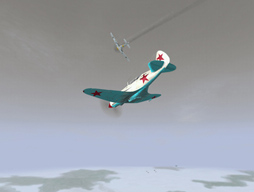 "This scene depicts a recreation of an encounter between Mld.Lt. Ivanov of the 92 IAP during the January 1942 counter-offensive around Moscow. The details of the aircraft and scene are based upon the recollections of the pilot, and therefore must be viewed with a certain caveat of reservation appropriate to this type of reconstruction. Ivanov lost his left leg in combat during 1942 and was withdrawn from service. He retired peacefully in Ufa, and passed away in 1993."

---
Tummult Over the River Khalkin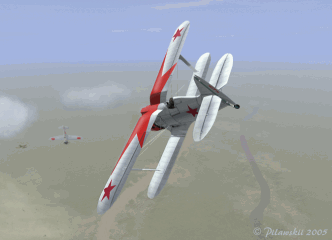 "This work depicts one of the gloriously painted I-153s of the 22 IAP operating over Manchuria during the Khalkin-Gol conflict. Three pilots, none of them as yet identified, are shown standing in front of Red 9, but alas the owner (or, owners) of this aircraft is not currently known.
The scene depicts Red 9 chasing a two Japanese A5M fighters. Preparing to roll and dive after the foremost enemy, the pilot of Red 9 has spotted a camouflged 'Claude' directly in his line-of-sight, and in excellent position for attack. The I-153 pilot has begun to reverse his aircraft's bank, and is just shifting his feet on the rudder bar."
---
Borovikh at Kursk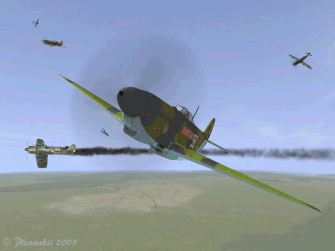 "The painting depicts the Yak-9 of Hero of the Soviet Union Andrey E. Borovihk at Kursk. Borovikh's White 59 carried the inscription 'Tambov Rabochi' (Tambov Workers) on the port fuselage, as well as the Order of the Red Banner on the nose.
During 6 July massive aerial battles broke out everywhere over the Kursk salient. On the northern flank, Borovikh and his 157 IAP became embroiled in a huge contest involving many units; to this day historians are not entirely sure how many aircraft took part, but certainly the number was in the hundreds, on both sides. Borovikh met the enemy just north of Poniri, and a wild melee ensued immediately.
Borovikh turned and chased furiously in the dog-fight. His Yak-9 was hit several times during the fracas, and likewise Borovikh himself struck several enemy fighters. His official tally for this action included on Confirmed Personal claim for a Bf 109, and another for a Fw 190, with an additional Shared claim for another 109. The scene here shows Borovikh thundering away past his final victim, his Yak fighter displaying holes, leaking fluids and other damage from the battle."
[Update: Thanks to Joseph for pointing out that my Fw 190 was not correct for this scene. I have revised this artwork based on his own art material.]
---
Erik uses Adobe Photoshop, Blender3D and 3DMax for his work. The drawing templates are his own. This image is light/aspect shaded in 3D, and the colours are presented with 'scale effect' desaturation as selected by the artist. Weathering has been applied to the images.