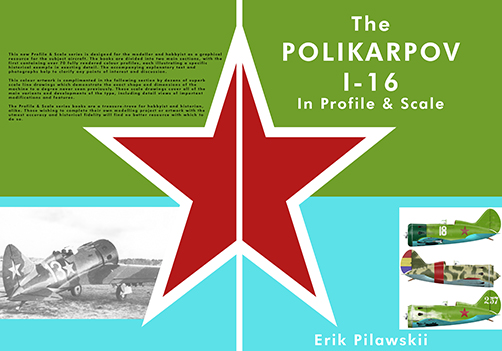 The I-16 In Profile & Scale
---
This inaugural book in my new

Profile & Scale

series details the Polikarpov I-16 family comprehensively. Numerous well known I-16 examples are faithfully documented in full-colour profile. Perhaps most importantly, the work contains many pages of my original, never previously published scale line drawings (in 1:48). The line drawings are the culmination of nearly 25 years' dedicated work on such scale details, and should present the most complete, accurate and illuminating such work anywhere at the present time. Readers will find many I-16 family myths put to rest, and at long last many hitherto confused or inaccurate details rectified.

Full four-side views (top, bottom, port, starboard) are provided for all of the major production models of the I-16, and additionally frontal views for important versions. The scale line drawings are complimented by unique shading block artwork which illuminates the aircraft's various shapes, bumps and curves using a 3D rendering of the Type 24.

Many of the colour profiles represent examples which will be familiar to most students of the I-16, albeit completed to the utmost standard of accuracy. However, several profiles will doubtless be new even to experienced readers; I hope these delight both the casual reader and the serious student, equally.
"The Polikarpov I-16 In Profile & Scale"
70 pp., full-colour, soft bound in A4 format


Addendum [July 2010]:
Two errors have been located in the 1st edition of

The Polikarpov I-16 In Profile & Scale

. Both mistakes relate to the Type 17, and list the armament incorrectly on pages

43

and

45

. A revised edition of the book has been supplied to LuLu which corrects these problems. For those with an existing copy of the book, please download a corrected version of the pages in PDF format for insertion into your copy.

May I submit my most sincere apologies for these errors. -EP

Corrected Page 43 Corrected Page 45


Available on-demand through LuLu.com
as Item # 7721074
Click Here

Retail Price
€
32.99
" This new Profile & Scale series is designed for the modeller and hobbyist as a graphical resource for the subject aircraft. The books are divided into two main sections, with the first containing over 70 fully rendered colour profiles, each illustrating a specific historical example in exacting detail. The accompanying explanatory text and photographs help to clarify any points of interest and discussion.

This colour artwork is complimented in the following section by dozens of superb scale line drawings which demonstrate the exact shape and dimensions of the machine to a degree never seen previously. These scale drawings cover all of the main variants and developments of the type, including detail views of important modifications and features.

The Profile & Scale series books are a treasure-trove for hobbyist and historian, alike. Those wishing to complete their own modelling project or artwork with the utmost accuracy and historical fidelity will find no better resource with which to do so. "